Kiwis for the Himalayas is a New Zealand-based charitable organisation which works in partnership with a Nepali / Indian team in the north-east Indian state of West Bengal. We operate the following programmes:
Medical Dispensary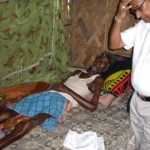 In the mid 1980s, with the help of three young men, directors Chandra and Santu started working with young and disadvantaged people in local villages. They found people with untreated ailments and as a result of a visit by six Kiwis in 1996, the idea of the medical dispensary was conceived. By 1999 the medical dispensary had been constructed and began operating. Today, the team of four (a doctor, nurse, ambulance driver and pharmacist) attend approximately 25 000 patients per year. The team operates a weekly mobile health unit, visiting more distant villages where oftentimes, there are no medical facilities or services.
Women Take Heart
Working in the villages, the visiting teams kept finding women in terrible situations, such as impoverishment due to abandonment by their husbands, or through being abused by alcoholic partners and/or family members. In response, the Women Take Heart programme was established in 2001, with the intention of empowering disadvantaged and abandoned mothers with children to be self-reliant, through vocational training. Programmes were set up for women to receive training in tailoring and handcrafts. This has grown into a co-op (micro-enterprise) run by the women and is now self-funding.
Children Have Hope
Children Have Hope began in 2003, with a trial group of 11 children from the slums. Rather than send these children to an institution, the Kiwis team placed them with family members. Recognizing that helping the children without education was futile, as the children would still be trapped in a cycle of poverty, every child in the programme, whether from the slums or orphans, has an opportunity to break this cycle through education. The children are enrolled in schools, their uniforms and books paid for, along with medical and dietary needs met. There are four team members who liaise with the care-givers and within the villages they are a part of. Currently there are three hundred children on the programme – and many more needy recipients.