Women Take Heart
The Women Take Heart programme was established in 2001 with the intention of empowering disadvantaged and abandoned mothers with children to be self-reliant through vocational training. Programmes were set up for women to receive training in tailoring and handcrafts. This has grown into a co-op (micro-enterprise) run by the women and it is now self-funding.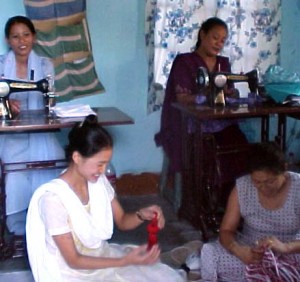 Since 2001 the Women Take Heart team, through their own income-generation, have built premises for a work room to produce clothing and hand-crafts. This has been so successful that the women in the co-operative have secured almost all the local school uniform contracts. They now employ a full-time tailor to keep up with the demand.
The co-operative has also brought a nearby property and built a restaurant with an adjoining shop for future retail use. Currently, the restaurant is breaking even, but employing women to run it.
Women Take Heart has expanded the vocational training in sewing, tailoring and hand-crafts to various slums. In each of these slums, similar co-operatives are being run and will become self-supporting in time. After five months training, the women are each provided with their own sewing machine and some initial funding to get started in their own enterprises. Some sponsorship for these set-up costs comes from NZ, approximately $200 per woman.
The Women Take Heart team, on its own initiative, provide practical help to poor people in villages. This help varies, but in the past the team has helped construct simple houses for victims of those whose homes have been destroyed, in areas where wild elephants rampage.